EVALUATION DETAILS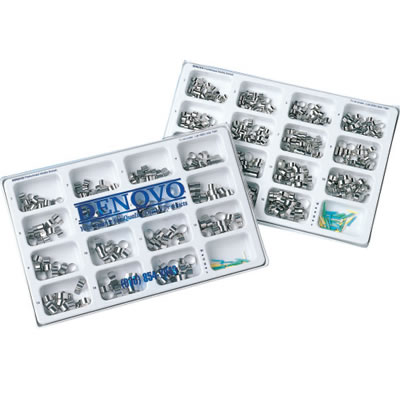 DENOVO Matrix Bands Evaluation
Preformed, Retainerless Matrix Bands

DENOVO's preformed, retainerless matrix bands provide enhanced access during restoration procedures.

DENOVO's preformed matrix bands enable restorations without retainers, clips, or rings, providing a wider field of view and enhancing patient comfort. Designed to enhance speed and efficiency, the .0015" stainless steel bands are "strong yet malleable in all clinical applications." The disposable bands are available in 3/16" and 1/4" widths, each of which comes in 15 sizes.
Eleven dentists participated in this Dental Product Shopper evaluation of DENOVO matrix bands, rating such features as band strength and stability, tightness of contact, and access during restoration.

Band Strength and Stability
Strength of the DENOVO matrix bands was rated as excellent by 2 evaluators and as very good or good by 9. One evaluator said, "sometimes, they're actually difficult to remove because they're so strong." Another evaluator said, "a weld came off during insertion." One dentist wondered if they "could be made in regular and thin thickness," and another said "not as strong as traditional bands." Observations about stability included "very good with wedging," "good adaptation," and "good when only the IP surfaces were involved and there was a solid contact adjacent." Stability was rated as excellent by 3 evaluators, and as very good or good by 8.

Ease of Installation/Removal and Overall Restoration Time
Ease of installation/removal of DENOVO's matrix bands was rated as excellent by 1 evaluator, as very good or good by 9, and as poor by 1. Comments included "easy to put on and remove," "upper second and third molars are the only problem areas," and "good, due to smaller size and without Tofflermire." One of 2 dentists who mentioned a "short learning curve" said "a different feel than a Tofflemire band, sometimes very tight (need hemostats), and difficult in maxillary posterior." Others said "very difficult to use with a wedge" and "difficult to get into the sizing system, but got easier with use." Overall restoration time was rated as excellent by 1 evaluator, as very good by 5, as good by 4, and as fair by 1. One dentist said "contact must be broken by preparation or wedging, adding to restoration time." Other comments included "fit and removal added to time" and "more time spent finding the right size."

Tightness of Contact and Ease of Creating Marginal Edge
Tightness of contact with the DENOVO matrix bands was rated as excellent by 2 evaluators, as very good by 5, as good by 3, and as fair by 1. Comments included "good contours, tight contacts" and "could be better, but that's always the case."
Three dentists rated ease of creating a marginal edge as excellent, 3 rated it as very good, and 5 rated it as good. Remarks ranged from "nice contouring" to "difficult to get a good marginal ridge and contact without a solid adjacent contact."

Tooth Separation and Minimal Flash
Two evaluators rated tooth separation with DENOVO's matrix bands as excellent, 3 rated it as very good, 5 rated it as good, and 1 rated it as fair. Observations included "very good," "wedging still required," and "has more to do with the wedge than the band." Comments about minimal flash included "properly fitted," "no problem with proper wedging," and "reduces excessive flash interproximally." Four dentists rated it as excellent, 5 rated it as very good, 1 rated it as good, and 1 rated it as fair.

Accessibility to Oral Work Area During Restoration
Access during the restoration with DENOVO's matrix bands was rated excellent by 5 dentists and very good by 6. Comments included "enhanced visibility during restoration placement," "very easy without a retainer in the way," and "greater access, much smaller than a Tofflemire holder."

Overall Satisfaction and Patient Acceptance/Comfort
Overall satisfaction with DENOVO's matrix bands was rated as very good by 4 evaluators, as good by 3, and as fair by 4. Patient acceptance/comfort was rated as excellent by 5 dentists and as very good or good by 6. Two dentists said "very comfortable," adding "patients liked them" and "they didn't impinge on gingiva."
Evaluation Snapshot