EVALUATION DETAILS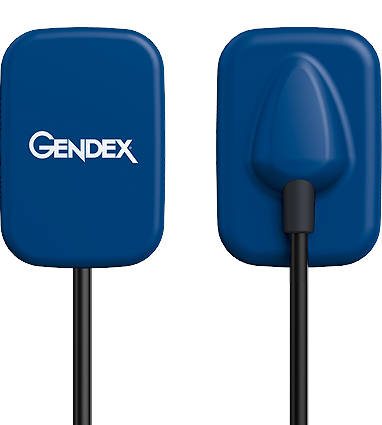 Gendex GXS-700 Evaluation
GXS-700 Digital Intraoral Sensors provide high-speed capture of real-time, high-resolution images with exceptional clarity and detail.
When asked what he liked most about GXS-700, a Texas dentist who called the digital sensors much better than similar products said, "The image quality of this sensor is unsurpassed." As Gendex Dental's 8th-generation digital sensor, GXS-700 is designed for ease of use, enhanced acuity, and sustainability, making it easy to migrate from film or upgrade a digital system. Eight dentists, all of whom are current GXS-700 users, rated such features as ease of use, patient experience, and image quality.
Ease of Use
Manufacturer Description: Engineered for smooth integration into dental practices, GXS-700 sensors are portable and eliminate the need for USB controllers, adapters, and docking stations.
Evaluator Feedback: Citing features such as, "easy movement [from] room to room," 7 evaluators rated overall ease of use as excellent or very good, with most rating it as excellent. "The software is easier/simpler to use. The staff seemed to like it better," said one evaluator. Suggested improvements included "more customized holders and accessories." Staff satisfaction was rated as excellent or very good by all 8 evaluators.
While not specifically asked about manufacturer support, 3 evaluators shared comments such as, "very responsive rep and great service," and, "I do love the service from Gendex…The IT department has been very helpful." "The sales support was excellent," said a Michigan dentist who has been using GXS-700 for less than 6 months, "with excellent training by a knowledgeable salesperson."
Patient Comfort/Experience
Manufacturer Description: GXS-700 sensors have rounded corners and smooth edges for optimal patient comfort. Two ergonomically designed sizes accommodate both children and adults; Size 1 Pedo (25 mm x 37 mm), designed to be closest in size to the x-ray film used most commonly in children, and Size 2 (31 mm x 42 mm).
Evaluator Feedback: All 8 evaluators rated patient experience (compared to film) as excellent, very good or good, with comments such as, "rounded corners for comfort." The dentist who reported that, "patients tolerate it well" said the sensors could be "even slimmer, if possible," when asked about potential improvements.
Image Quality and Acquisition Speed
Manufacturer Description: Thanks to advanced CMOS sensor technology, GXS-700 sensors capture real-time high-resolution images with consistently exceptional clarity and detail, even in challenging areas, such as third molars and long-rooted canines. The "Always Ready" feature automatically recognizes the presence of radiation and starts image acquisition without initiating the capture through software or hardware interfaces. Digital images appear instantly via the Hi-Speed USB 2.0 connection, providing immediate feedback when time is of the essence.
Evaluator Feedback: All 8 evaluators rated speed of acquisition as excellent or very good. "The Texas dentist who described image quality as "unsurpassed" also noted that, "Even faster than my assistant can email a file for a second opinion I can take a photograph of the monitor and text it to any specialist in my network…The original image is so great that the text image in no way limits getting a second opinion almost instantly." The same evaluator, who rated all features as excellent, went on to say, "The most impressive thing I have found using this sensor is in recognizing even the faintest sealer fill of accessory and lateral canal fills after endo."
All 8 evaluators rated overall image quality and diagnostic capability as excellent or very good.
Overall Satisfaction
All of the evaluators called GXS-700 much or somewhat better than similar intraoral sensors, and said they would definitely or probably purchase and recommend them to their colleagues.
Overall satisfaction was rated as excellent by 6 dentists and as very good by 2. "This is a great sensor. It works well, the patients tolerate it well, and the staff has no problems with it," noted a dentist who rated all features as excellent. A GXS-700-user for more than 3 years who identified "easy movement [from] room to room, rounded corners for comfort, the best image quality!" as the features he liked most went on to say, "I frequently get the chance to compare our sensors and image quality to others…and am often reminded of what a good choice I made when I see the competitors products and results."
"The thickness compared to film was not a limiting factor when deciding to go digital…," said an evaluator who has been using GSX-700 for more than a year. "This is the third brand I have purchased and [it is] by far the best.
Evaluation Snapshot