EVALUATION DETAILS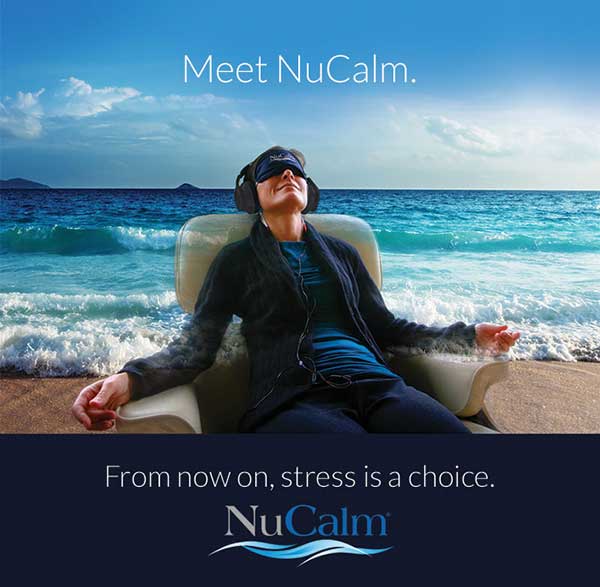 NuCalm Evaluation

NuCalm is a patented system that naturally relaxes the mind and body within minutes, providing a comfortable clinical experience for patients.
Since dental anxiety is a huge issue for some patients, Indiana dentist Dr. David Smith was looking for a way to help patients relax during treatment. After incorporating NuCalm into his practice, Dr. Smith reported that the system was "incredibly effective" at calming dental anxiety. "In a few short minutes, the patient is stress-free and able to be relaxed during treatment," he reported, adding that this helps create a positive experience for both the patient and the dental team.
NuCalm is a patented system that rapidly creates a deeply relaxed state without drugs and maintains it for the entire procedure. The system mimics the way the body naturally winds down and prepares for sleep—a process that reduces anxiety—and that relaxed state decreases the involuntary motor responses that can interfere with dental treatment.
For this Dental Product Shopper evaluation, we asked for input from dentists who have been using NuCalm for several months. We received overwhelmingly positive feedback and many comments like this one from Dr. Smith: "To be honest, I would hate to do dentistry without NuCalm."
Ease of Use
Using 4 components that interrupt the adrenaline response and guide the mind and body to a relaxed state, NuCalm is easy to implement into a practice. The 4-step process consists of a topical cream or dietary supplements; microcurrent stimulation applied with a neuropatch behind each ear; the NuCalm app and headphones; and a light-blocking eye mask or glasses.
"NuCalm is a very predictable technology that allows the dentist to do procedures very easily without patient anxiety or stress," shared Dr. Allan Winchar, who said the system is easy to use and "creates a positive experience for the patient." After seeing the science behind the NuCalm system, Dr. Kevin Winters said it fits dentistry's needs perfectly and he won't practice without it. Calling it the "best thing to happen in dentistry," Dr. Ryan Coulon said NuCalm works perfectly as an alternative to forms of sedation and his "patients couldn't love it more." Dr. Frederick Abeles said the ease of administering NuCalm was one of his favorite features and called it a 10 on a scale of 1 to 10.
Effectiveness in Relaxing Patient
NuCalm is unique because it creates deep relaxation without using drugs, causes no side effects, and requires no recovery time or supervision, according to Solace Lifesciences. By naturally creating a relaxation response in patients, NuCalm enables clinicians to safely control the most complex, unpredictable, and unreliable part of clinical treatment—the patient.
Dr. Sean Nelson said he was searching for a nonpharmacological solution to relieve stress and anxiety for his patients. After being introduced to NuCalm, he said it has transformed his practice in the way it serves all of their patients—not just the anxious ones. "[NuCalm] has made difficult patient appointments less stressfulfor all involved," he noted. "It has such tremendous impact on stress reduction, even on a cellular level."
With 6 NuCalm systems in his practice, Dr. Gary Imm said NuCalm allows for better sedation with less medication, reduces gagging, and lessens anxiety for a better experience and improved patient cooperation. He noted that he and his team benefit as much as the patient, because it provides a safer, more efficient and reliable visit. Dr. Coulon called NuCalm "a real winner" and said he is a "NuCalm customer and user for life."
Practice Benefits
NuCalm benefits the dental practice as a whole by reducing procedure times, improving clinical results, and satisfying patients, which ultimately helps recruit new patients. Because patients are more relaxed with NuCalm, they move around less, which allows the dentist to perform procedures more quickly. "Dentistry is much easier when we can focus on the procedure and not worry about a squirming, complaining, salivating, nervous, uncomfortable patient," noted Dr. Sandra Eleczko.
Dr. Imm said he estimates that his practice's efficiency increased by 30% when using NuCalm, and that has brought more referrals and greater profits. Dr. Winchar called NuCalm "an excellent practice builder when patients tell their friends about positive experiences," and Dr. Coulon said it fits his practice philosophy and has brought in many new patients via word of mouth.
Dr. Nelson said NuCalm also helps increase case acceptance and "has the cool tech factor, which patients love." Many dentists mentioned that NuCalm reduces stress for the doctor and team, especially with patients who otherwise may be difficult to manage. Dr. Winchar summarized, "We are living in a very stressful environment, and if we can reduce stress, then our profession will be the winner in the end, with positive comments from our patients."
Overall Satisfaction
With all the dentists rating their overall satisfaction as excellent, NuCalm earned a perfect score in this DPS evaluation. "NuCalm is a game-changer," Dr. Abeles remarked. "It is an amazing tool to utilize to quickly and predictably place patients in a relaxed state without having to resort to drugs."

Evaluation Snapshot