EVALUATION DETAILS
Precious Metal Refining Evaluation
Kulzer Precious Metal Refining provides dental practitioners with a quick, easy, and cost-effective way to recycle their scrap metal.
Many dentists either do not recycle their scrap metal waste or don't get the highest possible return on their old crowns, bridges, and lab scrap. By sending precious metals to a refiner, practitioners have a chance to add to their ROI and turn their trash into treasure.
We asked a team of Dental Product Shopper evaluators to weigh in on the services offered by Kulzer Precious Metal Refining, a direct refiner that pledges exceptional service, unsurpassed integrity, state-of-the-art technology, and a high return.
"[Kulzer is a] trusted vendor in the dental business, and they made the process very easy," said Dr. Rory Sprouse, who was among the DPS evaluators to work directly with Kulzer to convert scrap metal into currency, and who praised the refinery for its service.
Collect Scrap and Ship
The steps involved in turning scrap metal into cash are straightforward. Just collect your scrap metal, ship it to Kulzer or schedule a pickup, and collect your cash. Working with Kulzer Refining is a simple process, according to Dr. Sprouse, who said it was nice not having to deal with the "in-office hard-sell people" who collect scrap from dental offices. "I put the scrap into a container, sealed it with tape, and attached a label," he explained.
"[It was] very easy to package and ship," shared Dr. Sara Dean, who described Kulzer's service as excellent and said, "[We] will use them again in the future." A prosthodontist who evaluated the service said, "I liked the convenience of the shipping process," and noted that the service from Kulzer was much better than other refineries. When asked what he liked most about the service, Dr. William Simon, a Chicago dentist, responded, "[Kulzer Refining is] easy to use, [provides] good documentation and tracking follow-up, [and is a] reliable company."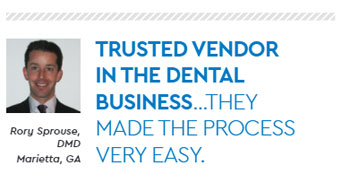 Kulzer is a direct refinery, eliminating the "middle man" to offer the highest return possible. According to Kulzer, the only way to truly determine precious metal content is by melting it down first. They heat, melt, separate, and analyze all metals in one location using a Triple Core Analysis process to determine the amount of precious metal in the scrap. They'll supply a complete 4-element assay report that guarantees an accurate and fair estimate on the total value of the precious metals, according to the refiner.
Akis Sinesi, DDS, described the service and the Kulzer staff as "quick and very informative, keeping my office informed through every step." One evaluator who admitted he doesn't like sending valuable materials in the mail said, "The overall transaction was good. It was easy to send for processing, and payment was more than expected." When asked what he would like to see improved, Dr. Simon—who said he would definitely use and recommend the service—suggested, "Advance notice of the environmental fee should be given."
Amount of Payment
Kulzer guarantees fair market value for gold, platinum, palladium, and silver, with settlement based on the London PM prices on the day of assay valuation. Customers can choose to receive payment via settlement check or gold/silver investment coins, both of which are received within 7 to 14 business days.
"I especially liked that there are options for payment for the scrap," shared one doctor, adding that he appreciated the gold coin payment option in particular. An evaluator who described Kulzer Refining as much better than similar services said, "Payment was more than expected."
Overall Satisfaction
When asked what they would like to see improved, Dr. Dean said, "I can't think of something that I would improve on." Another doctor added, "From my experience, there is nothing that needs improvement." Nearly all of the evaluators said they would recommend this refinery to colleagues and that they would use the service in the future.
DPS recently followed up with a couple of the dentists who evaluated the refinery in 2015, and Dr. Sprouse said he was preparing another large container of scrap to submit to Kulzer. Dr. Robert Conte said he still uses the service and is very satisfied.
With 92% of evaluators rating their over-all satisfaction as excellent or very good, Kulzer Precious Metal Refining has earned a "Best Product" award from Dental Product Shopper.
Evaluation Snapshot