EVALUATION DETAILS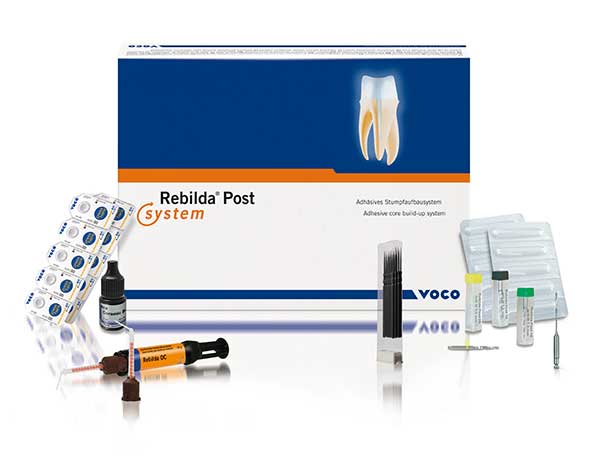 Rebilda Post System Evaluation
Rebilda Glass Fiber Post System
VOCO America
Rebilda features a dual-purpose cement/core-build-up material in a comprehensive, all-inclusive kit.
Now available from VOCO America, the Rebilda Post System contains everything needed for endodontic post cementation and core build-up. Rebilda features a dual-purpose, single-step cement/core-build-up composite (Rebilda DC) for faster procedure times. Also included is a dual-cured, self-etch adhesive (Futurabond DC) and Rebilda glass fiber posts, available in 3 sizes and with corresponding burs.
Ease of Use (Completeness of System)
Of the 14 dentists who evaluated Rebilda, 3 rated ease of use as excellent, 8 rated it as very good, and 3 rated it as good. Two evaluators cited this as a favorite feature. One evaluator described it as "a little confusing the first time but not bad thereafter." Commenting on the "easy-to-follow step-by-step approach," 1 evaluator said the in - structions "seemed complex during the first im - pression, after which it was very easy to incorporate into our daily routine."
When asked about the system's completeness— rated as excellent by 7 evaluators, as very good by 6, and as good by 1—9 evaluators said this was what they liked most about Rebilda. "It's very complete and guides you toward the right drill and post for any tooth," said a Los Angeles evaluator. Another dentist, who "liked the comprehensive components," noted that the "bonding agent brushes and individually packaged posts made for cleaner product delivery."
Dual-Purpose Cement/Core Build-Up Material and Bonding Agent
The system's Rebilda DC 2-in-1 cement and core build-up material is formulated to flow on demand with low film thickness (cement) while cutting like dentin and providing tooth-like surface hardness (build-up composite). Endodontic tips ensure easy access into the canals. Futurabond DC, the system's dual-cured, self-etch adhesive, bonds more than 30 MPa to dentin and enamel and takes only 35 seconds from start to finish.
Handling of the core build-up material was rated as excellent by 7 evaluators, as very good by 5, and as good by 2. Cutting qualities were rated as excellent by 9 evaluators and as very good to good by 5. When asked about handling of the bonding agent, 7 dentists rated it as excellent, 5 rated it as very good, and 2 rated it as good to fair. One dentist called the bond packs "a little tricky to use and hard to perforate." The manufacturer recommends using the brushes that are supplied with the Rebilda system; they are stronger for this purpose. One dentist "liked the size of the applicators and the build-up material's consistency" and another, who rated Rebilda as much better than similar systems, noted that "the tapered tip gets the bond down in the canals. No other tips do this."
Fiber Posts
The translucent, radiopaque Rebilda posts are designed with dentin-like elasticity and for high retention. The posts come in 1.2 mm, 1.5 mm, and 2.0 mm sizes along with corresponding burs. One of 2 dentists who suggested adding a smaller (1.0 mm) post said the "fit is excellent…corresponds well to the drills."
Cutting efficiency of the drills was rated by 13 evaluators—7 as excellent, 5 as very good to good, and 1 as fair. Two dentists cited this as the feature they'd like to see improved and a third noted that "you may need to add a bur to cut the posts with ease." The dentist whose favorite feature was "excellent cutting quality" called it "an excellent product with good cutting properties and esthetics," adding that "the procedure is technique-sensitive and isolation has to be observed strictly."
Overall Satisfaction
Final esthetics were rated by 13 evaluators—8 as excellent, 4 as very good, and 1 as good. Thirteen dentists said they would definitely or probably recommend and purchase Rebilda and overall satisfaction was rated as excellent by 7 evaluators, as very good by 6, and as good by 1. The evaluator who reported "wonderful anterior esthetics, where thin labial tissues tend to darken" called it a "very complete system with useful components that help speed up procedure time." "The kit is the most complete I've ever seen," said a Kingston, NY evaluator. "You don't need anything else."
Evaluation Snapshot