EVALUATION DETAILS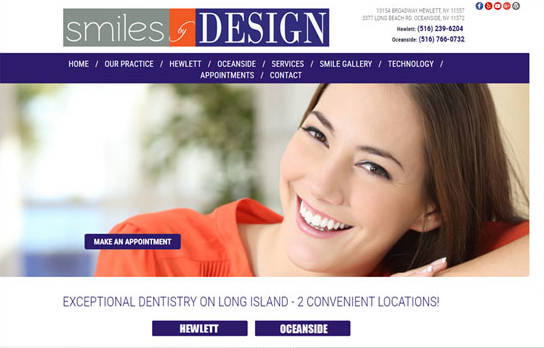 Dental Website Design Evaluation
Dental websites designed to make a great first impression and convert new patients
If you're tired of the same old story, just turn some pages, and roll with the changes. Those may be lyrics from a 1978 REO Speedwagon song, but "rolling with the changes" is so important in today's high-tech world of dentistry. Just ask VivioSites, which specializes in designing dental practice websites that connect dentists to new patients. Instead of remaining stagnant with the same old designs and features, VivioSites is continually updating and improving on its design of one-of-a-kind, mobile-friendly dental practice websites that draw potential patients and turn them into appointments.
In January 2016, VivioSites website design services earned a Best Product rating after DPS evaluators complimented everything from beautiful website designs with seamless desktop and mobile versions to the company's accessible, responsive customer service. One of those evaluators, Dr. Jeffrey Cummings, praised VivioSites for being "effective, prompt, and forward thinking." As part of its mission to roll with the changes, VivioSites has introduced several new and enhanced features in recent years.
Website Design
Each website developed by VivioSites is unique and professionally designed to attract and convert new patients with search engine optimization (SEO) in mind. During the initial evaluation, the VivioSites experience was rated highly among the evaluators thanks to multiple features that work together. These attributes include: customizable designs, easy-to-use site editor, mobile optimization, online patient forms, patient education library, and detailed web tracking analytics.
"VivioSites took on my mess and solved it all, and it took some work on their part," Dr. Fred Stillings, a DPS evaluator, said at the time. "I can't believe how hard they worked on taking care of transferring my domain and content to a new site...I feel like I have a true partner for online action."
VivioSites recently added a custom website design option and launched several new mobile-responsive designs. Dr. Cummings pointed out that VivioSites was quick to execute the mobile-friendly attribute for his practice, which demonstrates their forward-thinking philosophy, and the new mobile-responsive designs have been effective for his practice. VivioSites will offer more new designs in 2019 along with a new WordPress-powered web design option.
In addition to new designs, VivioSites is careful to make sure all dental websites provide the utmost security and maintain compliance with ever-changing regulations. They have added SSL Certificates and security to all sites to ensure compliance with recent Google changes and have updated all sites to be ADA compliant.
"You get quality work, excellent customer service, and they improve the growth of a business," explained Jeff Danner, DDS, a satisfied VivioSites customer in Ohio. "Changing our website and SEO to VivioSites has helped us reach out to patients in the area."
Get Found Online
Unfortunately, it doesn't matter how great a website is if nobody can find it. If a website design is poorly optimized for relevant keywords and phrases, a dental practice won't show up in an online search. All VivioSites websites are designed with dental SEO, which brings new patients to a website when they search for a dentist in their area on Google, Yahoo!, and Bing. Experts at VivioSites evolve with the search engines by consistently updating their code and methodologies to match the constantly changing algorithms.
VivioSites also provides their customers with detailed tracking analytics so they can track how many visitors and appointments come through their website, which makes it easier to determine a practice's return on investment. DPS recently asked Dr. Cummings how effective his website is at recruiting new patients. He said, "Our website, along with the marketing driving traffic to it, is responsible for 60% of our new patients or more."
Outstanding Customer Service
VivioSites provides its clients with a live, dedicated customer service representative, and is open and honest with dental practices. Calling VivioSites an honest company that really cares about its customers, Dr. Cummings said, "I have never worked with a fairer company." They are constantly going above and beyond to satisfy their customers, he added. "Every day, I ask a lot of them. Sometimes it is an immediate need, like an employee change where we need immediate action. Other times it is to ask how to change something to be most effective. They are committed to their customers," concluded Dr. Cummings.
VivioSites makes it easy for practices to transition to their platform by offering a one-week setup time and a 30-day money back guarantee with no contract required.
Ashley Ramsey, DDS, a highly satisfied VivioSites customer in Texas, summed up her experience by saying, "The staff at Viviosites has always been very easy to work with. The pricing for their services is very competitive and reasonable. As our practice has grown, VivioSites has added features and services to our existing site to help us continue to be competitive in our dental market. VivioSites has allowed us an online presence in our ever-growing tech world."
Evaluation Snapshot